The Wand Offers a Magic Touch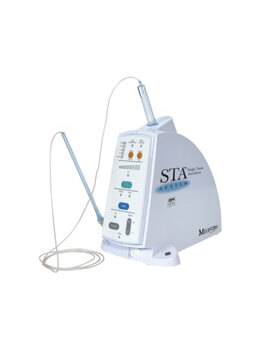 Here in Fort Worth, Dr. Gary White and his team try to make patient care more comfortable. That's why we've introduced The Wand as a helpful element in many procedures! This computerized anesthesia delivery unit helps patients feel more relaxed and at ease than ever before.
How does the Wand work?
Anesthesia is often needed for dental work, but the administration through injection can be too much for patients. Thankfully, The Wand solves these problems by controlling the volume and flow of the anesthesia, as well as the accuracy. Better yet, The Wand doesn't actually resemble a syringe, which is good news for patients who have a fear of needles. During the process, we place a drop of numbing agent on the affected site creating a comfortable injection point for The Wand itself.
You'll be amazed by how relaxed you'll feel at all times during your procedure with The Wand. Patients don't have to experience anxiety or discomfort, and Dr. White provides you with medication following your appointment so you can stay comfortable until you're able to return to your regular routine
Dr. White and his team can't wait to help you achieve the healthy, beautiful smile of your dreams! Don't hesitate to contact us today if you have any questions about our modern office, or if you're ready to schedule your first appointment. We're located in Fort Worth (right on Hulen Street) and we welcome new patients from Weatherford, Aledo, and beyond.