Dental Implants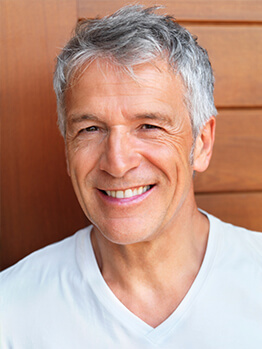 Anyone with missing teeth knows that good oral function is a gift. Without all of your teeth, eating, speaking clearly, and smiling with confidence become difficult. In the past, dentists placed bridgework, partials, or dentures that were supported with surrounding teeth or adhesive. Today, modern dentistry gives us a more stable and durable alternative: dental implants.
The Dental Implant Process
Dr. White works with a trusted oral surgeon in an interdisciplinary approach to dental implant placement. As your general dentist, Dr. White plans and oversees the entire implant case. He begins with an assessment to determine whether your health and bone density are sufficient for the procedure. Some patients need preliminary procedures to restore proper oral health and bone tissue. If the doctor determines you are ready, he'll explain what to expect every step of the way, and refer you to our oral surgeon for a consultation.
Implant posts are small, biocompatible fixtures placed into the sockets left by missing teeth. Each implant post is like a replacement tooth root. One post secures one crown, or a few posts hold a bridge, partial, or full denture. Your surgery takes place at the oral surgeon's office. Jawbone tissue naturally integrates with biocompatible implant posts creating an anchor for replacement teeth.
Dr. White then works with our dental lab to fabricate esthetic prosthetics (crown, bridge, partial, or full denture). He designs new teeth to look natural and fit comfortably in your mouth. You might wear a temporary prosthetic until the surgical site heals completely. Then, in our office, Dr. White attaches your new teeth.
All-On-4®
If you want to regain a full, secure smile fast, All-On-4 implants might be the right choice for you. This procedure involves the strategic placement of four implants within the jaw and a customized prosthetic that attaches to them. By avoiding the areas that require bone grafting, more patients can be candidates for dental implants without additional procedures. Better yet, the results are immediate, and your new, fully restored smile can be completed in just one appointment.
Benefits of Dental Implants
In addition to returning proper oral function and attractive smiles, dental implants stimulate jawbone tissue. Without teeth, the jawbone naturally degenerates over time. You've probably seen people whose face seems shorter, lips curl inward, and cheeks cave in. This is natural disfiguration caused by tooth loss and jawbone deterioration. Implants, keep the jawbone stimulated to reduce or eliminate degeneration.
You deserve to enjoy a strong smile that looks and feels exceptional. If you think implants might be the right choice for you, don't hesitate in calling Dr. White and his dedicated team in Fort Worth, TX to schedule a consultation. We'll review your records, discuss expectations, and recommend the best option for your situation.