Advanced Dental Technology & Patient Amenities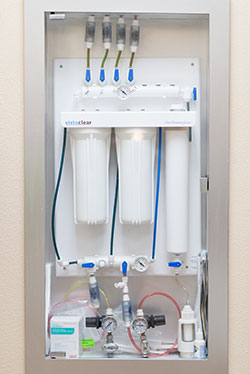 At the Fort Worth dental practice of Dr. Gary L. White, we offer patients superior comfort and use advanced dentistry techniques and technologies. Trust our team to help you achieve and maintain the optimal level of oral health.
Dentistry Technology
We're dedicated to using advanced dental technologies so patients receive the safest, most comfortable, and conservative treatment options. Some of our technologies include:
VistaClear – a state-of-the-art water purification system that ensures patients are safe and healthy throughout treatment
Intraoral cameras – allow patients to view their smiles on a computer screen as we discuss treatment options
Digital x-rays – we use high definition diagnostic x-rays with 90% less radiation for optimal patient safety and earlier diagnosis
Patient Comforts
Dental fear and anxiety keeps millions of patients out of the dental office each year. At our office, we're dedicated to making sure patients are comfortable throughout treatment. We offer numerous patient amenities including in-room TVs, neck pillows, and blankets. If you're not comfortable, let us know how we can help.