Digital Radiography in Fort Worth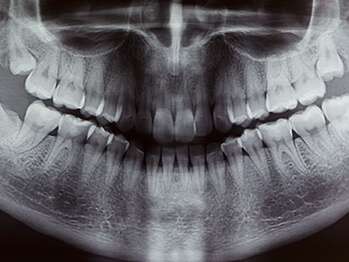 In the past, traditional dental X-rays had to be developed in a darkroom with hazardous chemicals and stored inefficiently in large filing systems. Even worse, radiation exposure for patients was excessive. Thankfully, digital radiography changed this process making it simple and safe to view the inner structures of your mouth! Here in Fort Worth, TX, Dr. White is proud to offer this technology.
Countless Valuable Benefits
We capture digital X-rays with the help of a sensor placed in the mouth that emits the amount of required radiation – up to 90% less than with traditional machines! This fast and easy process creates an image that is immediately visible on a convenient chairside monitor. No developing or waiting required. Our team members can even rotate, magnify certain spots, adjust the contrast, and provide color-coding so patients can better understand what they're seeing and be active, informed partners in care. The X-rays can be stored digitally as well, and it's simple to send them to other doctors and insurance companies.
Here in Fort Worth, our team is dedicated to providing patients with the latest in dental technology and techniques. Contact the dental office of Dr. Gary White today if you have any questions for us, or if you'd like to go ahead and schedule your first appointment. We look forward to welcoming you!