Teeth Whitening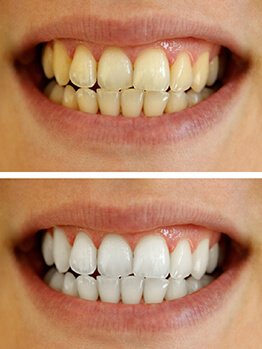 Life can be harsh on teeth. If your smile becomes drab or tarnished with stains, consider teeth whitening to renew a youthful, attractive appearance and a smile you'll show off with pride. Dark foods and beverages, like tea, coffee, and red wine, penetrate porous tooth enamel causing discoloration. Tobacco use or tetracycline medications add to tooth staining as well. Teeth naturally turn more yellow, brown, or gray over time. Modern, safe teeth bleaching lifts deep stains to restore a beautiful white smile.
How does teeth whitening work?
Consider your expectations when deciding on home or in-office teeth whitening. If you want immediate results for a special occasion, our strong in-office whitening system may be the right option. However, professional home whitening kits yield similar results but require daily treatment for about two weeks. Home kits come with custom-fabricated application trays and professional bleaching gel. Most patients are instructed to wear their gel-lined trays overnight.
In-office, Dr. White has found outstanding results with the innovative KöR teeth whitening® system. The doctor creates custom application trays. Then, patients attend an office visit for the first session. Wear the KöR trays at home while they sleep, and return to our Fort Worth office for a follow-up bleaching appointment.
Whether you initially choose in-office teeth whitening, KöR bleaching, or the home system, home kits touch-up teeth any time. Simply resume treatment when your teeth show signs of discoloration and stop when they return to optimal brightness. If you deplete your supply of bleaching gel, call or drop by our office. We keep bleach refills in stock. This convenient technique allows you to maintain your bright, attractive smile forever.
Are you ready to make a beautiful change? Contact our Fort Worth, TX office today if you have any questions about teeth whitening or our other cosmetic dentistry services, or if you'd like to schedule a consultation. Dr. White looks forward to meeting you! We also welcome new patients from Weatherford, Aledo, and beyond.