Fort Worth Dentistry
Caring for the Whole Person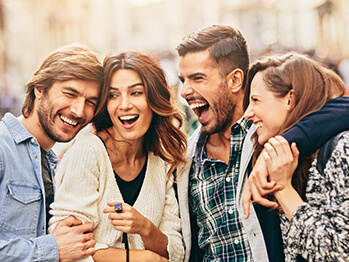 You are irreplaceable, unique, and valued. Dr. White and our team provide the personalized oral healthcare you deserve. We'll spend time learning your goals, and gladly answer questions. The information and education we provide is essential to making you an active partner in your own oral healthcare.
Your whole person, not just your mouth, is important to us. About 90% of adults over 30 have had a cavity, 80% suffer from some form of gum disease, and 70% have lost at least one tooth. These conditions cause pain and poor health, as well as reduced quality of life. Most people, at some point, need restorative dental care. When that time comes, we're here to make the experience rewarding.
As our patient, you are given a plan to prevent oral health concerns. Dr. White focuses on finding and treating potential problems, so you'll spend less time in the dental chair throughout your life. Rest assured, Dr. White and our team provide high quality treatment using contemporary practices, materials, and technology.
Teeth and gums don't heal naturally, and disease or damage worsens without professional intervention. Sometimes the doctor recommends an immediate procedure. For patients that need extensive dental work, Dr. White may suggest phased care. He designs a practical treatment plan to suit your schedule and budget while maximizing your oral health, so you enjoy a healthy smile for the rest of your life.
Beautiful Smiles Start Here
Located on Hulen Street in Fort Worth, our office is convenient to patients from Aledo, Weatherford, and surrounding areas. We welcome you to experience personalized, comprehensive dentistry with modern technology and procedures. Call our Fort Worth dental office today to reserve your consultation, checkup, or second-opinion visit with Dr. Gary White. We look forward to making your smile sensational.